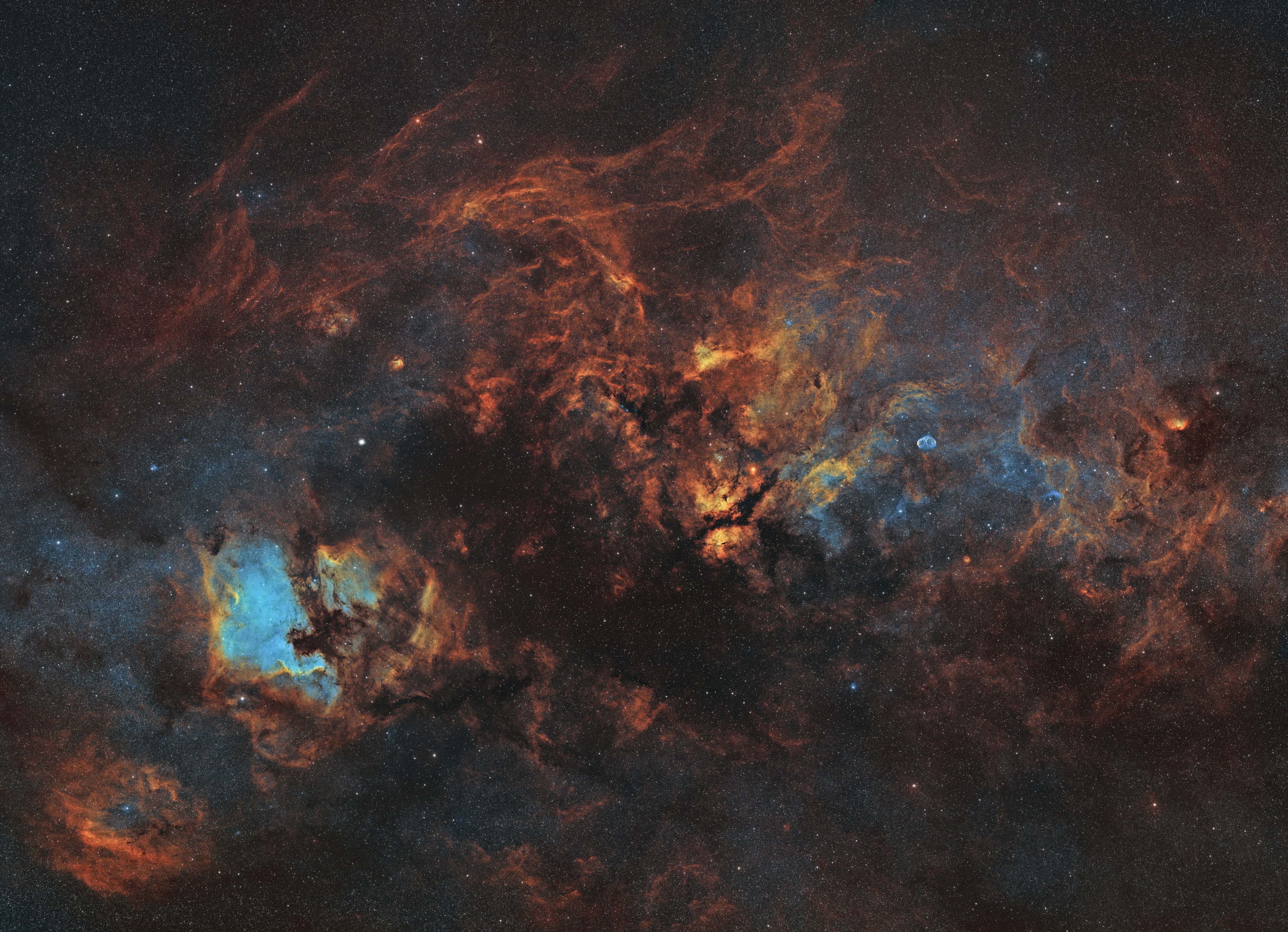 The Flames of Cygnus – a 9 panels mosaic. Interactive version here.
My biggest project so far! It took me 2 months – a total of roughly 60 hours of exposure time, 20 hours of processing time and 30 hours of computation time – to make this 104 megapixels image.
Here's an illustration showing how big this region appears in the sky compared to the moon (bottom right).
Equipment
Samyang 135mm f/2
QHY163M
Baader narrowband filters
Sky-Watcher HEQ5 Pro
QHY5L-II-C and QHY 30mm guidescope
Acquisition (Total : 58.8h)

Location : Backyard, bortle 5
Ha : 643x180s (32.1h)
OIII : 534x180s (26.7h)
Calibration : darks, flats
Processing (PixInsight)
Individual channel processing
Background levels equalization (dnaLinearFit)
GradientMergeMosaic
Gradient removal (DBE and ABE)
Deconvolution (tutorial)
Noise reduction (TGV and MMT)

HistogramTransformation
Color combination (tutorial)
StarNet++ on Ha and Oiii
Creating the dynamic factors
Creating a weaker version of Ha

Ha_weak : Ha

Flattened using HDRMMT and curves

Combining the channels with PixelMath

R  : f1*Ha_weak + ~f1*Ha
G : f2*Ha + ~f2*Oiii
B  : Oiii
Luminance processing
Creating the dynamic factor

f : Oiii*~Ha

Boosted using curves, noise reduced using MMT

Creating the synthetic luminance with PixelMath
StarNet++

Sharpening (MMT)

HDRMultiscaleTransform

LocalHistogramEqualization

Adding the stars back (PixelMath)

Star reduction (tutorial)
LRGB processing

LRGBCombination
CurvesTransformation
SCNR
Taken in July – September 2020