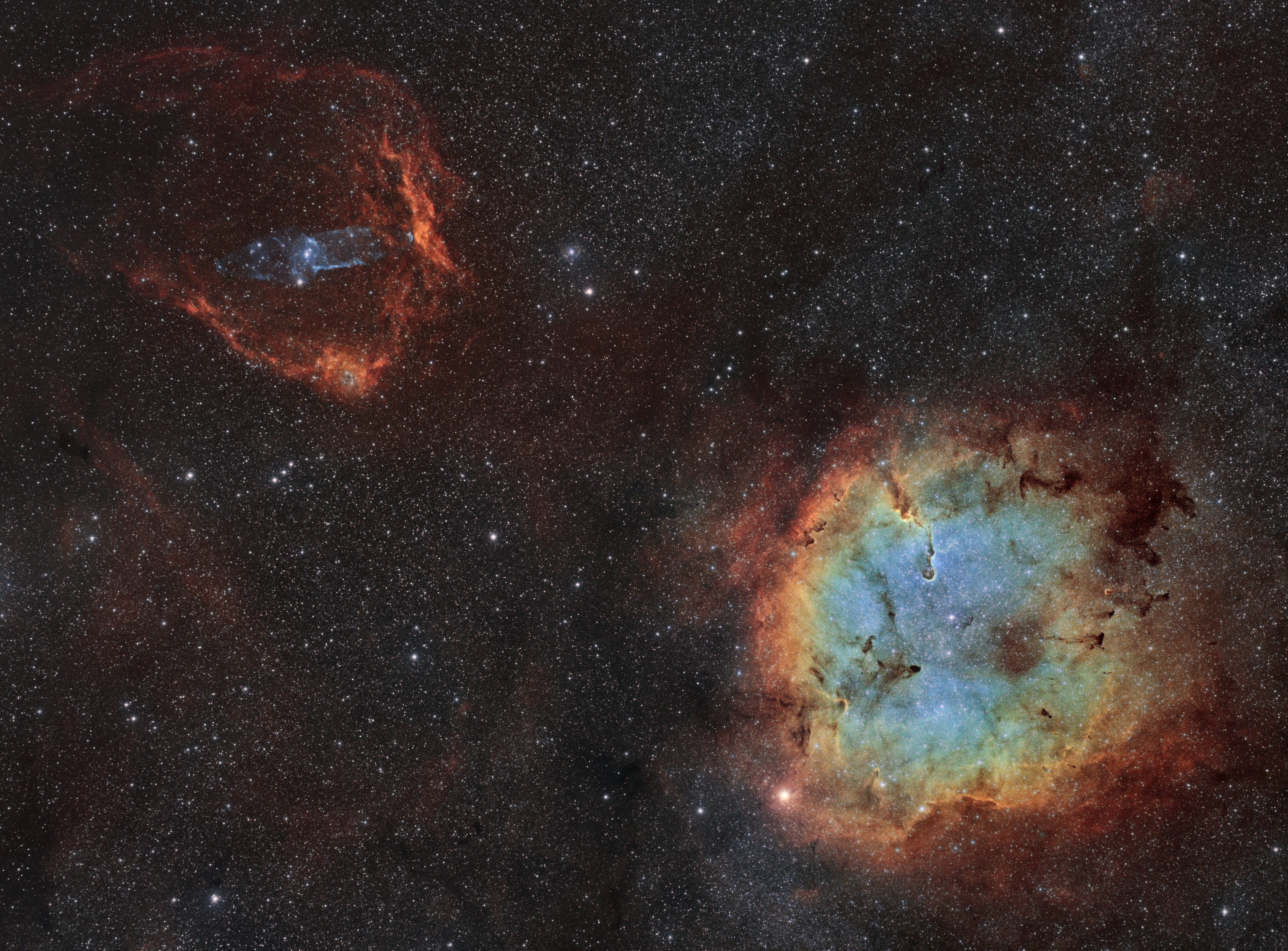 The Squid, the Elephant and the Bat – a zoo in the sky.
The Giant Squid Nebula (blue, top left) is a planetary nebula that was discovered in 2011 by the french amateur astrophotographer Nicolas Outters. It's big, very faint and exclusively OIII. Seriously, it's very very faint.
This image also includes the Flying Bat nebula (red, top left) and the Elephant's trunk nebula (bottom right).
Equipment
Samyang 135mm f/2
QHY163M
Baader narrowband filters
Sky-Watcher Star Adventurer
QHY5L-II-C and QHY 30mm guidescope
Acquisition (Total : 60.4h)

Location : Backyard, bortle 5
Ha : 270x300s (22.5h)
OIII : 164x600s (27.3h)
SII : 127x300s (10.6h)
Calibration : darks, flats
Processing (PixInsight)

Linear (on Ha, OIII, and SII)
DynamicCrop

DynamicBackgroundExtraction

Deconvolution (Ha only) (tutorial)

Noise reduction (TGV and MMT)

HistogramTransformation

OIII halos/reflections removal in Photoshop
Color combination (tutorial)

R  : OIII*SII + ~OIII*(.1*SII+.9*Ha)
G : Ha*(0.7*Ha+0.3*OIII) + ~Ha*OIII
B  : OIII*OIII + ~OIII*(.3*SII+.7*OIII)

Non-linear (creation of a luminance based on Ha and OIII)
Starnet++

Additional noise reduction and stretching on OIII

L : max(OIII, Ha)

Elliptical shaped mask (made with the GAME script) around the squid to blend L with Ha

Sharpening (MMT)

HDRMultiscaleTransform

LocalHistogramEqualization

CurvesTransformation

Adding the stars back (PixelMath)
Final adjustments
CurvesTransformation
Starnet++
DynamicBackgroundExtraction
BackgroundNeutralization
Adding the stars back (PixelMath)
Chrominance noise reduction (MMT)
Fixing the stars color (SCNR, ColorSaturation and Lightroom)
Star reduction (tutorial)
CurvesTransformation
Taken in April – May 2020